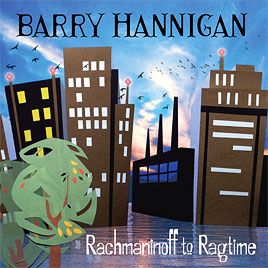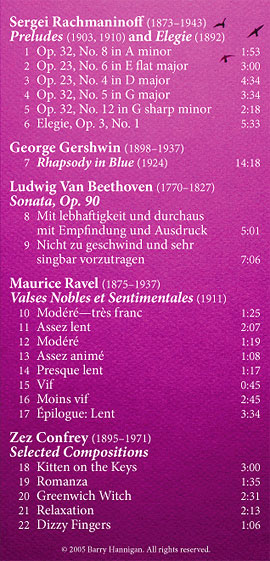 ---
Listen to music from this CD.
Order this CD.
---
---
Listen to music from this CD.
Order this CD.
---
Liner Notes
Sergei Rachmaninoff, Preludes and Elegie: Rachmaninoff patterned his Preludes after the famous Chopin Preludes, writing one piece in each major and minor key for a total of twentyfour pieces. Ten were published in Op. 23 and thirteen in Op. 32. The famous Prelude in C sharp minor completes the set, but it was published before the others, along with the Elegie, in Five Pieces, Op. 3. The selected preludes and Elegie are fully representative of the wide range of Rachmaninoff's expression as they include his signature rich piano figurations and soaring melodies. The range is impressive, from virtuosity (Preludes in A minor and G sharp minor) to lyricism (Prelude in G major) to multiple-voice ballads (Preludes in D major and E flat major, and Elegie). Two of these preludes (D major and E flat major) feature Rachmaninoff's consummate skill with countermelodies or subordinate lines. Pay close attention to the materials that repeat and listen "behind" the obvious melodies—you will gain an enriched understanding of Rachmaninoff's genius for creating a multi-threaded musical tapestry. Both works also feature a Rachmaninoff specialty—an insistent melody, backed by an ingenious chord progression, that climbs higher and higher to an enormous climax.
George Gershwin, Rhapsody in Blue: George Gershwin created this solo-piano version of Rhapsody in Blue because of constant requests for performances. The piece was originally scored for solo piano and band, much like a concerto; it was later adapted for piano and orchestra. A suitable ensemble was not always available to accompany Gershwin, however, and when one considers what must have been the uneven quality of these groups, it is easy to imagine him wishing they had not been there at all.
Gershwin derived the solo-piano version from his piano/orchestra score. He reworks the piano part (which is busy enough already!) to include a transcription of as much of the orchestral music as is feasible. Two short sections are cut because there is no satisfactory way to create a version for two hands that includes enough representative material from both the orchestra and piano parts. The resulting Rhapsody is thus a bit shorter than the original version, but it benefits from having the piano introduce the famous melody that appears about two-thirds of the way through the piece, and it provides a more satisfying and virtuosic ending.
Ludwig van Beethoven, Sonata, Op. 90: Beethoven's Sonata, Op. 90, lies on the cusp of the composer's middle and late periods. While it is not truly representative of either the virtuosity of the middle period or the introspection of the late period, the work does look both forward and backward in time. The first movement is traditional and classical, with a firm structure and clever development of motives and themes; it shows in every measure the craft that typifies the best classical composers. The second movement, though, is Beethoven as we rarely hear him—a romantic luxuriating in a beautiful melody. The tune is long for Beethoven, and the first portion appears an astonishing eight times during the movement. Even more amazing is that Beethoven—a composer who constantly develops and changes his material— simply repeats the melody most of these times without any alterations.
Maurice Ravel, Valses Nobles et Sentimentales: Though extraordinarily well-written for the piano, Ravel's Valses Nobles et Sentimentales seem orchestral rather than pianistic—one can almost hear an oboe in the slow waltzes or violins in the more sentimental ones. The waltzes contain an impressive range of tempos and styles, from the virtuosity and pomp of the opening to the sadness and introspection of the last. Within, Ravel shows an exceptional ability to evoke a full range of emotions, but his specialty is passages that have a "sweet and sour" feeling—an almost palpable mood of wistfulness and nostalgia. His conservative harmonies and melodies recall the music of a time gone by, and his refined and sensitive rhythms hark back to the days of Chopin and Liszt, whose concert waltzes graced the salons of Paris.
Zez Confrey, Selected Compositions: Zez Confrey was listed first on the famous concert by Paul Whiteman and his orchestra where Rhapsody in Blue was premiered: "An Experiment in Modern Music with Zez Confrey and George Gershwin." Who is this composer who had top billing over Gershwin? He turns out to have been a once-famous pianist and composer who excelled in what is known as novelty piano, a flashy style that led from the ragtime era into the jazz age. His legacy is a few recordings and one volume of collected compositions, which is unfortunately of extremely uneven quality. Some of the scores are complete, but many are only skeletal indications of the pieces as they must have been performed. The music is delightful, however—inventive and rhythmically exciting, tuneful and expressive. The versions recorded here contain a few liberties within the arrangements, but they retain Confrey's basic style and spirit.
Recorded at Weis Center for the Performing Arts, Bucknell University, Lewisburg, PA
Recorded and edited by Dale Hourlland
Piano prep and tuning by William Koble
Artwork and design by A.Lyon - monkeymatic.com